Craft: Toilet Paper Tube People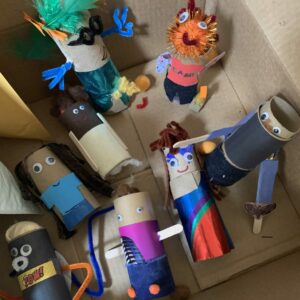 These Toilet Paper Tube People are easy to make lots of fun to use for imaginative play! You can make a whole Tube family if you like.
Materials:
Toilet paper tubes
Paint
Paint brushes
Colored paper, fabric scraps, etc.
Googly eyes
Yarn
Scissors
Glue
Tape
Black marker
Wow-To:
Step 1: Draw a line around the top portion to separate the head from the body. This is not mandatory but helps define these as separate areas.
Step 2: Make some clothes for your tube person out of colorful paper or fabric scraps that you will glue on or paint some clothing directly onto the bottom portion of the tube.
Step 3: Choose something for the hair- yarn, colored paper or felt will all work well.
Step 4: Now it's time to add the eyes and mouth.
Step 5: Play with your people!